Welcome to St. Mary/McCormick Catholic Academy. We are proud to invite you to a school that cares about not only each child's academic excellence, but also their development as an entire person.
We strive for academic achievement, social and emotional development, and spiritual growth in the Catholic faith. While we are a Catholic Academy, we welcome students and families of all faiths. Our mission is to educate each child, one child at a time: mind, body and soul.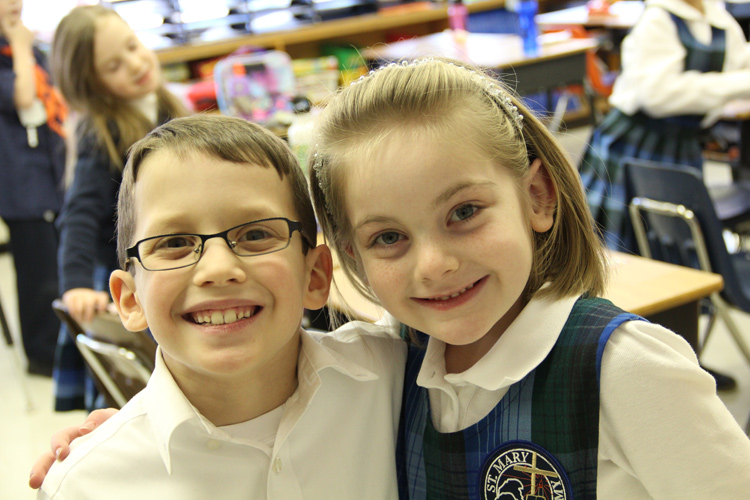 From preschool through eighth grade, you'll discover a vibrant learning community. Our students leave St. Mary/McCormick as confident, intelligent young adults ready for the next phase of their lives. Along the way, they discover new talents and friendships to last a lifetime.
Our academic record speaks for itself. Our students consistently score in the top 10% to 15% in the nation on their standardized test scores. Through innovative teaching and the latest technology, your student will receive a head start on their academic journey.
Contact us to schedule a tour, a shadow day and or to learn more about why an investment in St. Mary/McCormick Catholic Academy is an investment in your child.
Mission
The mission of St. Mary/McCormick Catholic Academy is to provide a safe learning environment which fosters academic excellence and spiritual growth in the Catholic Faith one child at a time; mind, body & soul.
Vision
We are committed to developing an effective Professional Learning Community that will achieve the mission of St. Mary/McCormick Catholic Academy. We envision a school in which staff:
Works collaboratively to fulfill our mission statement;
Seeks strategies to improve student achievement;
Monitors student learning and progress;
Makes adjustments in instruction to increase student success;
Provides a Christ-centered learning environment;
Philosophy
We believe St. Mary/McCormick Catholic Academy exists to partner with parents in nurturing their students in the Catholic faith and traditions.
We believe that Christ-modeled education develops respect for self, for others, for all God's creation, and teaches students to act with peace and justice toward others.
We believe that a holistic education prepares students to become contributing members of our global society as American citizens.
Hours
Our accrediting body counts every minute of morning prayer and pledge toward required religion instructional hours per the Archdiocese of Detroit Office for Catholic Schools and the Michigan Association of Non-Public Schools. The Michigan Department of Education counts every instructional minute overall. Our goal is to have 100% punctuality as a school body. Every minute of learning counts.
School begins 7:45 a.m.
Tardy bell 7:50 a.m.
A.M. Pre-K, Preschool 7:45 a.m. – 10:50 a.m.
Full Day Pre-K, Preschool 7:45 a.m. – 3:05 p.m.
Dismissal 3:15 p.m.
Maintaining High Standards
Catholic schools engage in an ongoing process of evaluation, certification and accreditation of both teachers and programs. Their accountability guarantees the maintenance of Catholic schools' traditionally high standards.
The Catholic school curriculum meets all state regulations and guidelines. In addition, diocesan guidelines require a strong religious education curriculum.
Catholic school faculty members are fully qualified professionals committed to bringing out the best in their students as they grow in knowledge, skills and values.
Association with agencies such as the Middle States Association and the National Catholic Education Association, as well as with Diocesan Education Offices, helps provide programs and instruments for internal and external evaluations on an ongoing basis.
Green School
Environmental education is an important focus at St. Mary/McCormick Catholic Academy. We are an official Michigan Green School, and have been a proud recipient of the Michigan Emerald School Award for initiatives such as:
Paper and bottle recycling
School vegetable and flower gardens
Peace garden/tree planting
Grow lamp utilization
Earth Keepers Program Participation
Ecologically based field trips
Printer cartridge recycling program
Electronic equipment recycling
School-wide Earth Week activities
Recycled materials in projects
New Earth in danger series to school library
Academy Website (paperless communication)
Energy use reduction program
History
St. Mary Academy was established in 1963 as a first-through-eighth-grade Catholic elementary school. Later, preschool and kindergarten classes were added.
In 1992, St. Mary became a preschool through fifth grade school as they moved their sixth, seventh and eighth grade classes to St. Stephen Parish to be a part of a newschool, McCormick Catholic Academy.
McCormick Catholic Academy opened in August 1992, with 77 students. The school was named after Rev. Msgr. E.J. McCormick who was the longtime pastor of St. Stephen Parish (1925-1960) and a great supporter of Catholic school education and children.
Following a decline in enrollment partially as a result of St. Joseph School's closing, on March, 21, 2007, Cardinal Adam Maida, Archbishop of Detroit, gave approval for the merger of McCormick Catholic Academy with St. Mary Academy into one, parish-based school entity. After much planning and hard work on a capital campaign, four classrooms were added to the original St. Mary Academy. The Academy then became St. Mary/McCormick Catholic Academy in October 2007.